Laser Therapy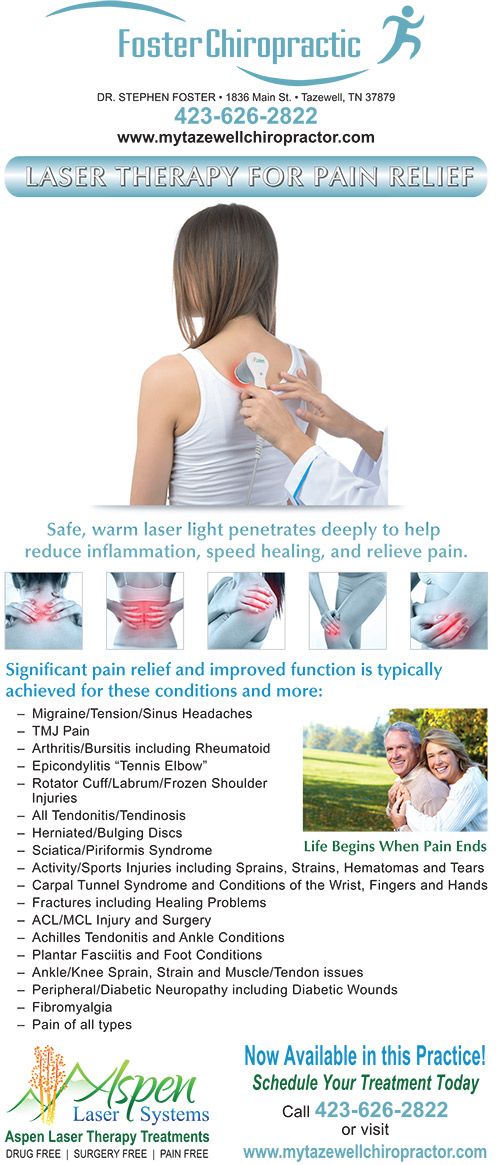 If you have any of the following Laser Therapy may be right for you…
Low Back and Cervical Neck Pain
 Bulging, Herniated, or Slipped Discs
Carpal Tunnel Syndrome
 Epicondylitis (Tennis Elbow)
 Temporomandibular Joint Disorder (TMJ)
 Arthritic Conditions
 Post-Surgical Recovery
 Headaches, including Migraine
 Sports Injuries (Muscle Strains)
 Plantar Fasciitis
 Myofascial Trigger Points
 Herpes Zoster (Shingles)
 And many more joint, muscle, circulatory and inflammatory conditions
What is Laser Therapy?
Laser therapy is the use of specific light wavelengths (red and near-infrared) to create therapeutic effects on the body. Laser therapy is utilized for several therapeutic effects including, improved healing time, pain reduction, increased circulation, and decreased swelling. The use of laser therapy can be dated back to 1970, when it was utilized in Europe by physical therapists, doctors, and nurses. Since its FDA approval in 2002, laser therapy has been extensively used in the United States.
Therapeutic Effects
Each Laser Therapy Treatment is painless, the energy it administers into the body increases circulation, drawing water, oxygen, and nutrients to the damaged area. This creates an optimal healing environment that reduces inflammation, swelling, muscle spasms, stiffness, and pain. As the tissue returns to normal, function is restored and pain is relieved.
Cellular Effects
As the Laser Therapy treatment is being performed, the infrared laser light interacts with tissues at the cellular level and metabolic activity increases within the cell. As the metabolic activity increases the transportation of nutrients across the cell membrane. The production of cellular energy (ATP) is then stimulated, leading to a cascade of beneficial effects, increasing cellular function and health.
About Our Laser…
We off the most technologically advanced and powerful Class IV Healing Laser Therapy available today, providing you with a safe and effective option to treat your pain and inflammation. Our laser utilizes up to 18 watts of energy to deliver the quick, efficient results.
How Does Laser Therapy Work?
The Laser accelerates wound healing and decreases inflammation, pain, and scar tissue formation. It is proven to bio stimulate tissue repair and growth. The Class IV Laser can have dramatic results that are non-addictive and virtually free of side effects when managing chronic pain.
Is Laser Therapy Safe?
When performing Laser Therapy, the primary concern is eye protection. Lasers can pose optical risk if the eye is exposed to the laser light. The therapeutic dose of laser light not in the visible spectrum and therefore is not visible to your eye. Laser-safe eye protection is provided and should be worn by individuals within the treatment area.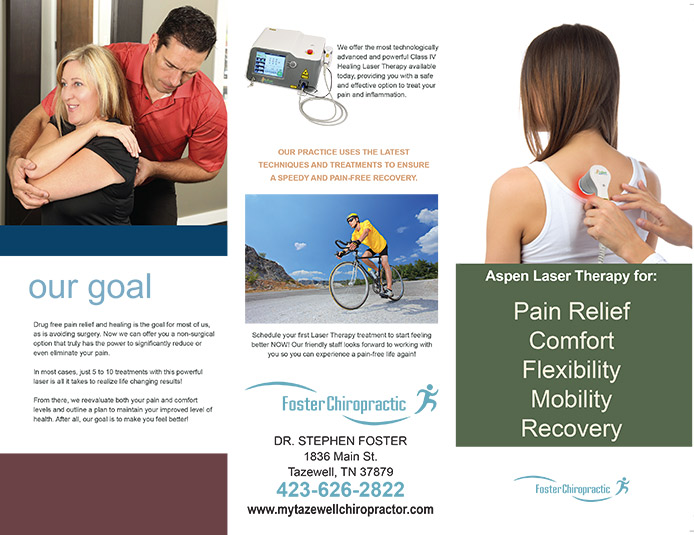 Helpful Links:
Foster Chiropractic Laser Therapy Video
About Lite-Cure Deep Tissue Laser Therapy